From car parts to trash carts to pop bottles: Recycled plastics have a number of uses.
This story was originally published on the Detroit Free Press.
Essentially, everything you need to know about recycling a piece of household plastic you learned in elementary school.
"While it's possible to find a new use for virtually all plastics, several factors can affect an individual type's recyclability," said Matt Flechter, recycling market development specialist with the Michigan Department of Environment, Great Lakes, and Energy (EGLE).
Most important, he explains, is to recognize the item's shape.
"Containers such as shampoo bottles, milk jugs and yogurt cups or similar food tubs are the easiest to recycle and are in highest demand by recycling centers and U.S. manufacturers," Flechter said.
The bottom line for Michigan households, he said, is to follow the advice EGLE is stressing in its new "Know It Before You Throw It" recycling education campaign: "Ask your local recycling provider what kinds of plastics it accepts and make sure to put only those in your recycling container," Flechter said.
The shape of things to come
But while shape and size primarily determine what ultimately happens to the item after it's thrown in a recycling bin – and even whether people should put it there in the first place – basic numbers remain part of the story.
Many consumers believe the little digit surrounded by the recycling symbol found on each plastic container indicates that the bottle or container is recyclable.
"What many people don't realize is that those numbers merely represent the type of resin the piece of plastic is made of," Flechter said. "They were never intended to provide recycling direction, although that's what people have come to believe over the years."
In fact, guidance from many recycling services has promoted that misleading messaging, he said.
"What they'll typically tell households is that they'll accept some combination of Nos. 1 through 7 plastics in their curbside pickup," he said. "It's done with the best of intentions to make it easier for consumers to understand plastics recycling. But it's really not the most precise advice, and providers increasingly are beginning to focus more on size and shape versus numbers."
Leaving the digital age
In the meantime, however, the numbers can still serve as a rough rule of thumb to promote proper plastics recycling. In general, items labeled as Nos. 1 and 2 are in strongest demand, followed by No. 5, while other plastics are harder to recover and have weaker markets.
Typically, No. 1 plastics – including soft drink, juice and water bottles – are made from polyethylene terephthalate, or what is commonly referred to as PET. The containers are easily recycled back into bottles and are sometimes used to make carpet, luggage and polyester.
No. 2 plastics – typically high-density polyethylene, or HDPE – often include Items such as laundry and shampoo bottles. They commonly are returned to the same use, but can also find their way into new trash containers, buckets and floor tiles.
Additionally, there is demand for polypropylene (PP) plastic, commonly known as No. 5 plastic. It often is used in yogurt and margarine tubs that are remade into other food containers.
Recyclers should also know that their local recycling service has every incentive to find a company that will somehow reuse whatever it takes in, said Dave Smith, recycling coordinator for the Michigan State University Surplus Store and Recycling Center, which collects and sorts all recyclable material on the East Lansing campus.
"You hear people say, 'Well, it's just going in the landfill anyway,'" he said. "But if you think about it logically, it doesn't make a lot of sense for a recycler to collect nonrecyclable items. Otherwise, we're just paying the cost for it to go into landfills. So if there are communities taking the material, people should feel fairly confident that it's actually getting recycled."
Furthermore, some plastics that aren't suitable for curbside collection – including plastic grocery bags and film overwraps – are sometimes accepted at drop-off locations, Flechter said.
International policies impact local recycling
Plastics that consumers recycle first go to a materials recovery facility (MRF) that separates them for marketing to manufacturers or processors that shred or grind them into pellets for use by the ultimate product makers.
Traditionally, nonbottle plastics have been less likely than PET and HDPE bottles and containers to enter the U.S. recycling stream because they're relatively harder to recover and sort, said Darren McDunnough, owner, president and CEO of McDunnough Inc., a Fenton-based recycler and compounder of post-industrial plastic, which is typically waste produced during manufacturing processes.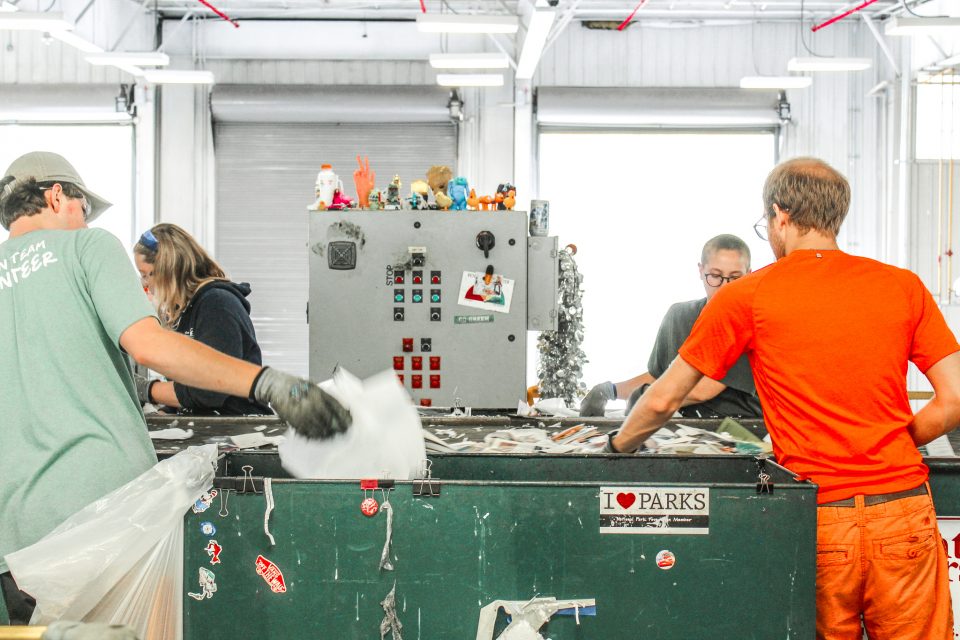 "It's easy for workers who are doing the sorting at a MRF to identify a PET water bottle or [HDPE] detergent bottle," McDunnough explained. "But [other resins are] more difficult to sort and separate. They're products that are not readily identifiable visually when sorting by hand, so you have to implement and employ technology to segregate those materials."
And the technology to separate many different types of plastic can prove expensive and raise the cost of accepting a broad range of plastics. That's why most unsorted and nonbottle plastics recycled by U.S. consumers for years were shipped to China, which relied on low-wage hand sorting to separate recyclables.
But in 2018 China banned almost all plastic imports – prompting U.S. municipalities and other recycling service providers to invest in equipment such as infrared sensors that better identify each type of plastic.
It also gave rise to EGLE's "Know It Before You Throw It" campaign, which beyond educating consumers about what can and can't be recycled also stresses the importance of placing only clean items in recycling containers.
"Our ultimate goal is to create more jobs and a cleaner environment by bolstering Michigan's recycling industry and infrastructure," Flechter said. "Michigan residents can help make the system more efficient by properly recycling."
Michigan manufacturers stepping up
Beyond recycling properly to support Michigan's recycling businesses and collection programs, using consumer purchasing power to buy products made with recycled plastics will also bolster the demand for plastics collected at the curb in the long run, Flechter said.
Cascade Engineering, based outside Grand Rapids, is one company responding to the market shift by striving to incorporate more recycled material into its products.
In January, it unveiled its EcoCart, a waste container made of 10% post-consumer HDPE plastic - specifically bulky, rigid items recycled by U.S. consumers, such as laundry baskets that are picked up at the curb but are often difficult to recycle, said JoAnne Perkins, Cascade's vice president of environmental systems and services.
Typically – other than their wheels, which are made of recycled containers – Cascade's carts are manufactured from virgin, never-before-used plastic.
But Perkins was inspired to change that after hearing Brent Bell, a Waste Management executive, challenge attendees at a sustainability conference in Arizona last year to help find new uses for recyclable material that used to get shipped to China.
"It was effectively a challenge to create the 'demand' side of the recycling equation," Perkins said. "With [China's policies], we have a responsibility to create a demand for these products. I thought I could do more on my end."
She tasked Cascade engineers with figuring out how much recyclable material could go into a cart without compromising cost or performance.
While they initially settled on 10%, the ultimate goal is to get to 25% recycled content, Perkins said.
"We've come a long way in a year, and I'm very proud of our engineers," she said. "We're starting to shift the market a little bit."